From innovation to disruption
Digital transformation is keeping in touch with your market.
Reinventing its uses is taking it!
Let your imagination wander
No vision without perspective.

Stéphane BAURBERG – CEO
Graduated from the Institut Supérieur de Gestion, resolutely Next Thing Dreamer & User-Centric Lover, Stéphane advises for over 20 years major companies from Retail, Leasure & Hospitality, Banking, Finance and Insurance, with a special attachment for human realization. He has dedicated his career to maximize business and users performance through innovative concepts creations.
Stéphane notably founded Jobs Booker, the first platform dedicated to Retail, Leisure and Hospitality that allows to manage the whole hiring process : from the best match on criteria such as competence, proximity, salary, hourly volume, schedule, to the digital contract conclusion, passing by videoconferencing Interviews. In this context, he  created the 1st Connected Postings and the 1st Sort Engine by Consensus.
In the field of services, he has notably developed an Outsourcing Solution for Grant Attribution dedicated to Blue Chip Companies, which has enabled them to obtain tens of millions euros to maintain jobs, empower employees training and boost their growth.
He has created the 360 Crash Test, preventive methodology to audit innovative projects risks, integrating a 360° strategic vision of company's Business Divisions and promoting disruptive transformation in Agile mode.
He loves : Disrupting sectors, one by one, to anticipate consumers expectations and improve welfare of the greatest number.
His assets : A thorough knowledge of Blue Chip companies various strategic components (HR, IT, Business, Marketing and Finance) and constraints.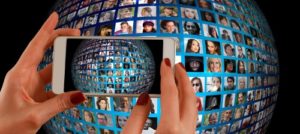 La Boîte à Concepts Experts
Around Stéphane, we mobilize renowned experts, to bring to each project a light from all strategic business functions, as well as the sharpest knowledge on each topic.
Our structured approach makes each client feel unique, in a stimulating environment that offers proximity, innovation, ROI and secured change management in Agile mode.
The First Circle

Laurent SABBAH – Communication
Graduated from Sciences Po and Celsa. – Paris IV-Sorbonne, Laurent evolves for over 20 years in the information and communication world.
Audiovisual Reporter Journalist, he collaborated with RTL TV, France 3 and la Cinq newspapers and magazines news, as Corporate Communication Consultant, he worked for the North American company Edelman (1996-2000) on brand issues, PR and crisis communication.
As Club Med Communication Director (2000-2015), he contributed to the brand repositioning strategy, to the teams commitment and the change management. Laurent is the Author of «Communication explained to my boss » J & B Publishing.
He loves : Promoting the ideas and projects through words, images, and conversations, rewarding those who embody them.
His assets : Being a communication practitioner and strategist, combining reflection and action.  A strong conviction: skip theatrical effects  to focus on communication, i.e. the relationship between stakeholders.
Aymeric BECAUD – Sales Structuring and Development
After training in law at the University of Assas, supplemented by a course of training in sales techniques, Aymeric got involved for more than 25 years in tourism and insurance Blue Chip companies management.
He notably intervened as Sales and Marketing Director and Executive Committee member, for Marsans Transtours Group and for Look Voyages (Transat Group) , as well as Sales and Marketing Director for L'Européenne d'Assurance and Corporate and Tourism Sales Director for Europ-Assistance (GENERALI Group).
He loves : Supporting companies in change, shaking up competitors and expanding market shares, emphasizing operations profitability.
His assets : A solid experience in strategy and sales management in competitive sectors, strongly hit by the international context.

Laurent FREO – Finance
Graduated from DSCG, business-oriented and placing performance at the heart of any approach, Laurent participates since almost 20 years to the Executive Committee of large firms in the sectors of Tourism and Finance, with a particular attachment to the objectives set achievement. He was notably involved as BU America, England, Israel and France Club Med CFO and Market Securities CFO.
He loves : Wondering about systems, structures and organizations, in continuous research of relevant optimizations.
His assets : An International career and an operational expertise in Group/subsidiaries, multi-sites/multi-countries issues.

Francis VIRIOT – Human Resources
After an economics training at the University of Assas and a full curriculum at the CNAM, Francis has developed a strong expertise in Human Resources in large groups. He was notably Brand HR Director for McDonald's France (60,000 – 300 franchisees) where he has been involved for more than 20 years, then HR Transition Director for AD AUTODISTRIBUTION Group (6000 employees – 1600 garages and body shops AD), as well as Group HR Director for STOKOMANI (50 stores – 1800 employees). He also dealed with more specific issues such as health at work approach, as Expert Consultant for the INTERMARCHÉ Industrial Pole (multi sites agri-food – 9 500 employees).
He loves : Empowering organizations structural performance, anticipating issues, HR inherent growth levers, and solving collective problems through dialogue.
His assets : 360 ° HR vision built in operational management, dealing with complex cross-cutting issues, in very various structures : networks of shops, agencies or autonomous units, industrial sites…