From innovation to disruption
Digital transformation is keeping in touch with your market.
Reinventing its uses is taking it!
Let your imagination wander
No vision without perspective.

Stéphane BAURBERG – CEO
Graduated from the Institut Supérieur de Gestion, resolutely Next Thing Dreamer & User-Centric Lover, Stéphane advises for over 20 years major companies from Retail, Leasure & Hospitality, Banking, Finance and Insurance, with a special attachment for human realization. He has dedicated his career to maximize business and users performance through innovative concepts creations.
Stéphane notably founded Jobs Booker, the first platform dedicated to Retail, Leisure and Hospitality that allows to manage the whole hiring process : from the best match on criteria such as competence, proximity, salary, hourly volume, schedule, to the digital contract conclusion, passing by videoconferencing Interviews. In this context, he  created the 1st Connected Postings and the 1st Sort Engine by Consensus.
In the field of services, he has notably developed an Outsourcing Solution for Grant Attribution dedicated to Blue Chip Companies, which has enabled them to obtain tens of millions euros to maintain jobs, empower employees training and boost their growth.
He has created the 360 Crash Test, preventive methodology to audit innovative projects risks, integrating a 360° strategic vision of company's Business Divisions and promoting disruptive transformation in Agile mode.
He loves : Disrupting sectors, one by one, to anticipate consumers expectations and improve welfare of the greatest number.
His assets : A thorough knowledge of Blue Chip companies various strategic components (HR, IT, Business, Marketing and Finance) and constraints.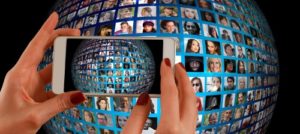 The Experts of La Boîte à Concepts
Around Stéphane, we mobilize renowned experts, to bring to each project a light from all strategic business functions, as well as the sharpest knowledge on each topic.
Our structured approach makes each client feel unique, in a stimulating environment that offers proximity, innovation, ROI and secured change management in Agile mode.